9 Ways To Make The Bathroom Safer For Aging In Place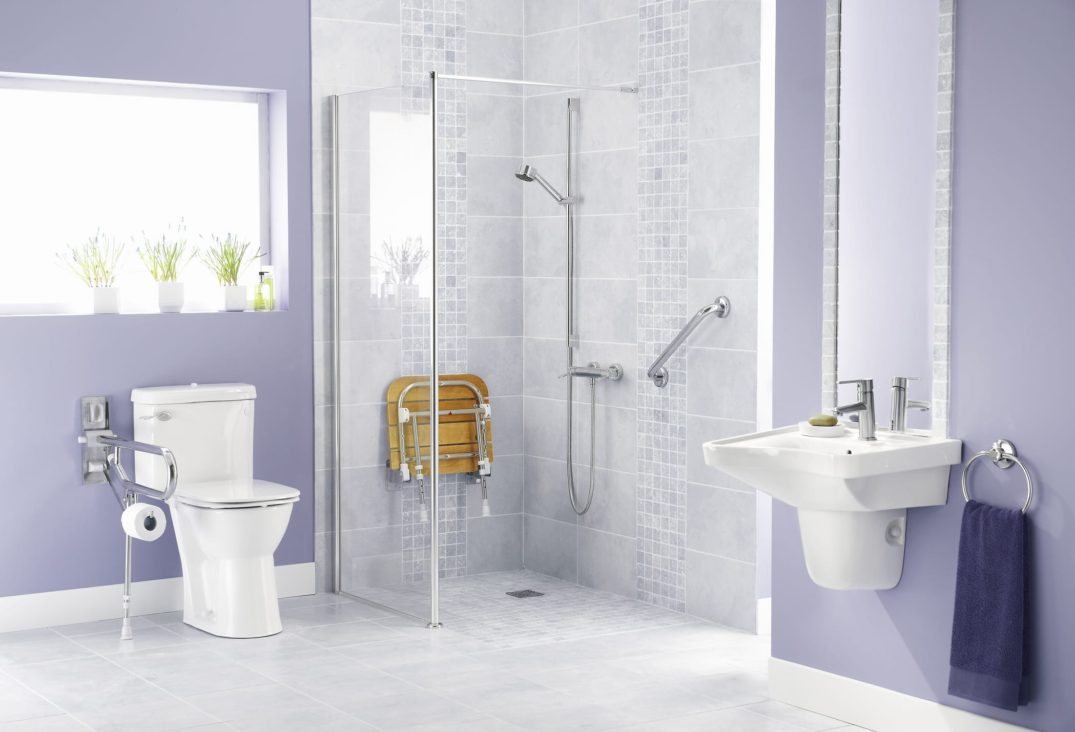 Common sources of falls include: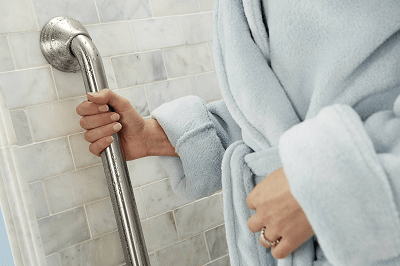 – Slipping in the tub or shower
– Falling when lifting a leg over the bathtub
– Not properly clearing the lip on stall showers
– Getting on and off the toilet seat
– Falling over clothes, towels, or bath mats
– Losing balance when bending over
9 Ways To Make Bathroom Safer
1. Keep the floor free of clothes and towels. Can't bend down to reach things? Use one of those "grabby" devices that enable you to reach items above or below you.

2. Make sure that bath mats and rugs have rubber backs or other fasteners to keep them in one place.

3. Rinse off shower mats after used to prevent soap scum for making them slippery when you use them again

4. Add wall-mounted grab bars around the shower, toilet, and other places in the bathroom. Ensure they are installed properly and will not pull away when force is applied to them.

5. Consider a taller toilet or at least an elevated seat with grab bars, if needed.

6. If you renovate the bathroom add a built in shower seat. Of if not, use a shower stool specifically designed from that purpose to allow bathing from a seated position.

7. Equip the bathroom with a handheld shower head to allow showering even when sitting. Some products have a removable head mounted near the main shower head, which is not too useful for some seniors. Opt for a unit that is mounted on a sliding bar to allow for adjustments at the right height.
Make sure that the shower head has the controls to adjust the water right on the handheld part.

8. Make sure that the shower has a pressure balance valve installed to prevent accidental scalding from hot water.

9. Consider whether the bathtub will still be convenient. Some people have difficulty getting in and out or have trouble pulling themselves up from a seated position. Consider switching to a walk-in tub with a door or a large walk in shower stall.

Is The Cost Worth It?

With the exception of the walk-in bathtub or replacement of the tub or shower, all the other upgrades or modifications suggested above are low-cost. If you are considering making modifications as a test to see if the house for work, consider carefully what the impact of more serious renovations will be on what happens next if the modifications are not enough to keep you in the home. Some upgrades, such as walk-in bathtubs, ramps, and stair lifts can impact the resale value of the house. Some younger buyers might not even like the grab bars, and they might feel that some modifications would make a house unsuitable for their younger family.
---
You may be interested in these posts also:
Roy Thomas SRES® (Senior's Real Estate Specialist) is a REALTOR® with Sutton Group Professional Realty. Since 1991 Roy specializes in helping retirees with their later in life real estate transactions. If you are contemplating a move and would like a complimentary copy of Roy's guide to downsizing entitled "Preparing to Downsize" please click here